CONTACT:
Brad Hennen
507-828-0276
2243 330th Street
Ghent, MN 56239
INTRODUCING THE HENNEN PIG CHUTE!
Thanks for visiting my Pig Chute virtual showroom!


The Hennen Pig Chute can help you:
Improve accuracy while vaccinating pigs.

Reduce stress on pigs and people.

Improve vaccine efficacy.

Greatly reduce bent and broken needles.

Ensure every pig gets the correct dosage.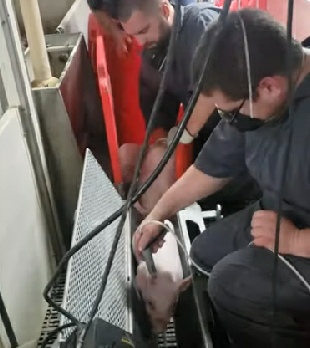 Click photo to SEE IT IN ACTION!

Hennen Pig Chute in the News!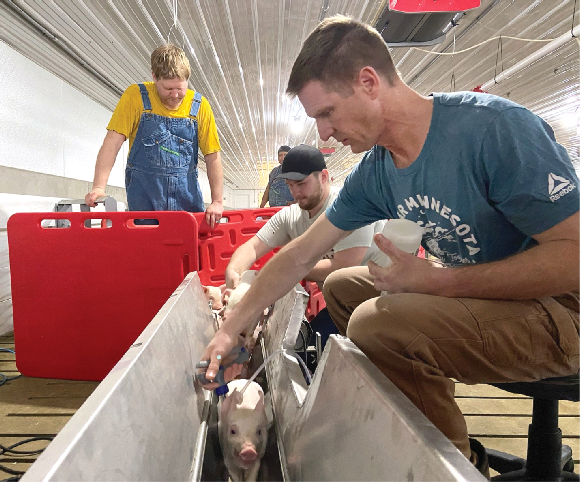 Pigs on the move
A new device created by a southwest Minnesota producer is making life easier for pig farmers everywhere
By Per Peterson
Tracy Area Headlight Herald
You have no doubt heard of pigs in a blanket. But what about pigs within a conveyor belt?
Tracy farmer Jay Fultz certainly has heard of both, and found that using the latter will save him time, money and wear and tear on his body when it comes to vaccinating his pigs.
The conveyor belt comes from the mind of Ghent farmer Brad Hennen, who just recently sold Fultz one of his new pig chutes, which Fultz has quickly grown to appreciate.
"The big thing for us is, it's a time-saver — not only the physical time that we use, but also we don't need as many guys to work with it," Fultz said. "The bigger thing is, it's physically easier on us. And it makes us more efficient."
Hennen has a finishing barn near Ghent that holds about 750 pigs and sells breeding stock in Minnesota and the Dakotas for a genetics company. He said his device solves a big problem for farmers: How do they restrain pigs during the vaccination process.
~ Read More…
Minnesota Farm Bureau Federation Announcement:
Congratulations to Brad Hennen of Ghent, MN who was named a
semi-finalist for the Farm Bureau Ag Innovation Challenge and will be awarded $10,000 in start-up funds. Hennen, creator of the Hennen Pig Chute, developed the product to help improve the accuracy of the swine vaccination process. Congratulations, Brad! We are so proud of your accomplishment.
In January, Brad and the other finalist teams will compete for the Farm Bureau Ag Innovation Challenge Winner award at the 2023 AFBF Convention.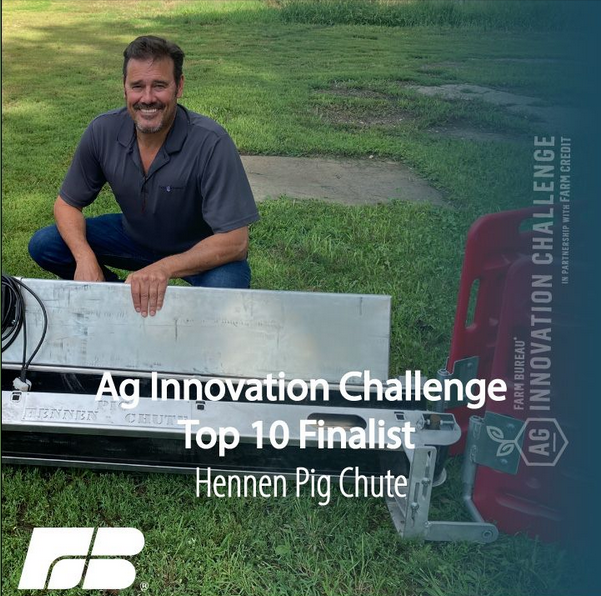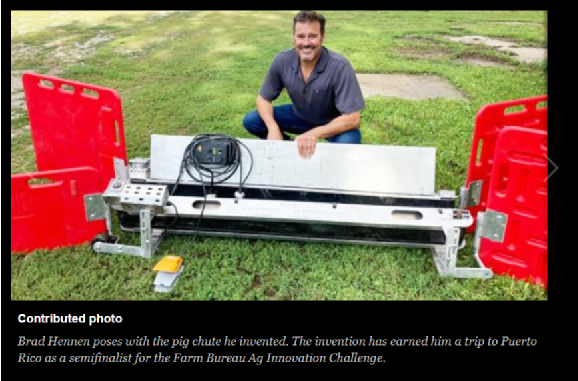 STRAIGHT CHUTER
Hennen's pig chute invention to make vaccinations easier, safer
(The Minneota Mascot)
BY: SCOTT THOMA, SCOTT@THOMABOOKS.COM
Any time you can save time, money and wear and tear on your body while doing an even more proficient job, it seems to be too good to be true.
Brad Hennen, who has a finishing barn outside of Ghent that holds approximately 750 pigs, has done just that with his invention of a pig conveyor chute that restrains pigs in order to make it much easier to vaccinate them.
The new chute also is a way to reduce broken needles that sometimes occurs during the vaccination process when pigs are difficult to manage.
So impressive is Hennen's creation of the pig chute, the personable farmer was recently selected as one of 10 semifinalists in the 2023 Farm Bureau Ag Innovation Challenge. ~ Read More …